Our Ocean Bootcamp is a capacity building program launched in 2022 which targets to train Tanzanian youth with passion and interest to gain an in-depth understanding of our ocean challenges and be empowered to take actions to conserve and protect the ocean and venture innovative sustainable blue economy with targets on sustainable utilization of the sea natural resources. The Bootcamp aims to gather Tanzanian youth for practical capacity-building training which will equip them with skills and capacity to innovate solutions for our ocean and become active activists and agents of change. This will automatically increase youth engagement in ocean actions in Tanzania and beyond and create empowerment via a sustainable blue economy and innovations.
Project type: training  
Project status: In progress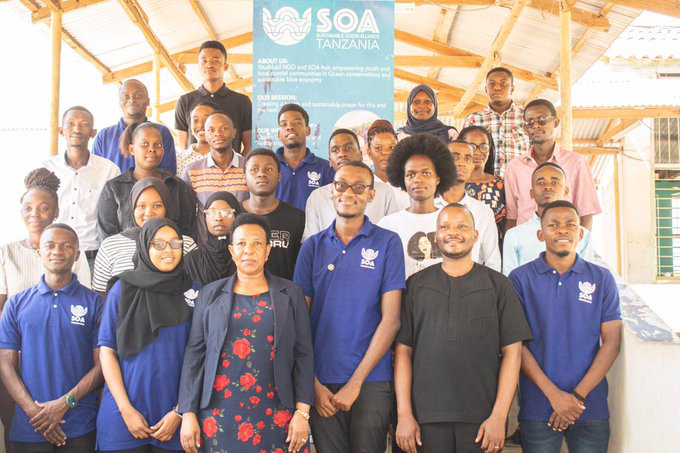 TESTIMONIALS FROM OUR OCEAN BOOTCAMP 2022 PARTICIPANTS
Our ocean bootcamp 2022 was an eye opening to me as it gave me the opportunity to learn about the status o the ocean in Tanzanian perspective and on how we as youth in Tanzania can take actions to save our ocean, the bootcamp connected me to other ocean leaders in Tanzania an i am happy to have joined SOA Tanzania as an ocean leader
Our ocean bootcamp 2022, had built a new momentum in me which i hadn't had before, it helped me realize the power of youth and helped me learn from other youth and connect together to save our ocean for our generation and the generation to come.
OUR OCEAN BOOTCAMP 2023
We are thrilled to announce that, Our ocean bootcamp 3rd cohort will be done this year and we are now receiving applications to attending the 3rd cohort of our ocean bootcamp, a fully funded opportunity to travel to project site, meet in person, connect and SAVE OUR OCEAN.